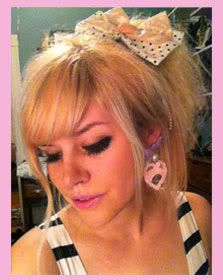 Hi, I'm Kelly!  I live in Providence, RI. I have a clothing & accessories shop
I'm Your Present
. ♥Here's
me
and some
things I've made
♥ For shop updates and special sales become a fan of my
facebook page!
Here are some adorable pictures of my sweetheart earrings:
sweetheart girls!
and some other
Customer Pics!
Please read my
FAQ!
before asking a question!! ♥
presents
FAQ
FOR QUESTIONS ABOUT ORDERS/ SHIPPING TIME… please contact me through etsy, not tumblr!!!  I've been getting a lot of questions on here about orders, and I don't want my tumblr to be all answers about personal orders, it would be boring for other people to read & I can just as easily write to you on etsy! ( plus I will have your screenname so I can look up when I shipped it!)

QUESTION: Where can I get the sweetheart earrings?  Can you do the bows in different colors? 
They're for sale in my etsy shop. 
If the color you want isn't listed, chances are it just sold and I haven't had a chance to re-list it yet… it should be back up in the store within a few hours (especially if it's nighttime for me). If not, feel free to send me and etsy message and I will re-list it!
All the bow colors are interchangeable, so if you want say, pink sweethearts with gold bows just check out the pink pair and let me know in the notes to seller section that you want gold bows.
QUESTION: Can you make the sweetheart earrings for someone with plugs or with clip ons?
Yes, for both! I recently added that to all of my shop listings. When you check out just write me a message in the notes to seller section that you want hooks or clip ons. For plugs I use a smaller size bow which matchings more evenly with the hook like these- http://www.etsy.com/listing/72252515/red-sweetheart-earrings
I can do that style in any color.  If you want them, just check out the color sweethearts you want and then leave me a message in the notes to seller section that you want them with hooks instead of the bow studs. 
QUESTION: Where do you get your supplies?
I get almost all of them locally. I also resell a lot of them in my supply shop- Poodle Party
QUESTION: I want something, but it's not in my size!! Do you do other sizes?

Yes, all the time!!  I do custom orders for the same price as the original and I've made sizes 0-20 before.  Just send me a message through etsy and let me know the item or multiple items you are interested it, I can tell the prices and whether I can remake them or not (sometimes I'm out of the fabric in which case I can show you other options).
QUESTION: How did you learn to sew? Did you go to fashion school?

Yes! I went to the Rhode Island School of Design where I majored in fashion design.  I learned a ton there but even when I graduated I couldn't sew nearly as well or fast as I do now… that came from sewing every weekday all day long for the past 4 years!
QUESTION:  I wrote to you on etsy, but you haven't written back yet!
Sorry about that!!  I get hundreds of emails a week and I usually respond to them in bulk.  My assistant helps me respond to etsy messages on monday, wednesday and friday … I try to respond to them intermittently too but If i haven't gotten back to yours it will be responded to on one of those days.
thank you!!