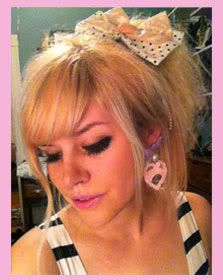 Hi, I'm Kelly! I'm 27 and live in Providence, RI. I have a clothing & accessories shop
I'm Your Present
. ♥Here's
me
and some
things I've made
♥ For shop updates and special sales become a fan of my
facebook page!
Here are some adorable pictures of my sweetheart earrings:
sweetheart girls!
and some other
Customer Pics!
Please read my
FAQ!
before asking a question!! ♥
presents
emilynoel reblogged this from imyourpresent and added:

Ohh this makes me very happy! Reminds me of homemade Halloween costumes from when I was little!