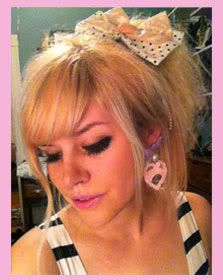 Hi, I'm Kelly! I'm 27 and live in Providence, RI. I have a clothing & accessories shop
I'm Your Present
. ♥Here's
me
and some
things I've made
♥ For shop updates and special sales become a fan of my
facebook page!
Here are some adorable pictures of my sweetheart earrings:
sweetheart girls!
and some other
Customer Pics!
Please read my
FAQ!
before asking a question!! ♥
presents
HALLOWEEN COSTUMES!
Hey Lovers!!  I have some new Halloween costumes in the works for my shop, I'd LOVEEEEEEEE to hear which idea's are your favorite!!!
1. WONDER WOMAN
2. MERMAID
3. MINNIE MOUSE
4. ALICE IN WONDERLAND
5. SNOW WHITE
<3 <3 <3